FITDC Ambassador and teacher Britt Daniels needs a full day of fuel to keep up with his busy schedule running Prophet Fitness and teaching Local Legends classes, so meal prepping is key to staying on track while also staying full and satisfied. Britt breaks his day into six small meals instead of three larger meals so that he never feels hungry and always has energy. He likes to keep it simple, affordable and protein packed to build muscle and keep himself energized for a packed day of classes and clients. See a full day of meals below, as well as a grocery list so that you can eat like Britt this week.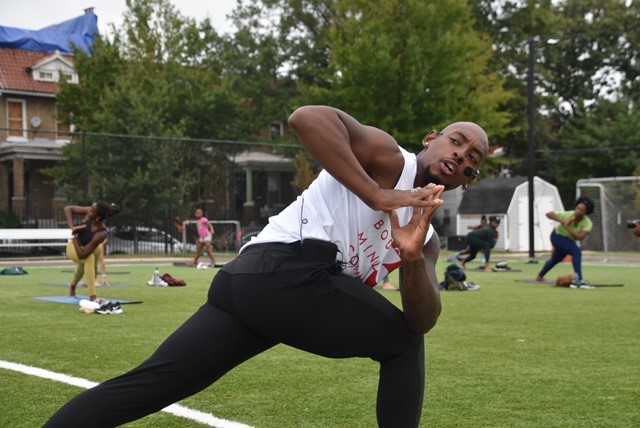 Meal 1: Protein Smoothie
Vanilla protein powder, flax seeds (for fiber) half cup of oats, spinach, half a banana, and water blended
Meal 2: Egg Hash
4 eggs, half a sweet potato, 2 cups spinach, and kimchi
Meal 3: Chicken and Veggies
4 ounces grilled chicken breast, cup of brown rice, and 2 cups of broccoli
Meal 4: Beef Bulgogi
4 ounces shredded beef in bulgogi spice, half a sweet potato, and asparagus
Meal 5: Chicken Salad
4 ounces chicken breast, spinach, romaine lettuce and balsamic vinegar dressing
Meal 6: Protein Shake
Vanilla protein shake with cinnamon (made with water)
Want to eat like Britt for a week? Take this shopping list with you as a guide on your next visit to the grocery store.
Shopping List
Vanilla Protein Powder
Chicken Breast
Beef (low fat)
Eggs
Spinach
Romaine
Asparagus
Sweet Potatoes
Bananas
Flax Seeds
Cinnamon
Brown Rice
Quick Oats
Olive oil
Bulgogi marinade (in the Asian Foods aisle)
Balsamic Vinegar Dressing
Kimchi (in the Asian foods aisle)